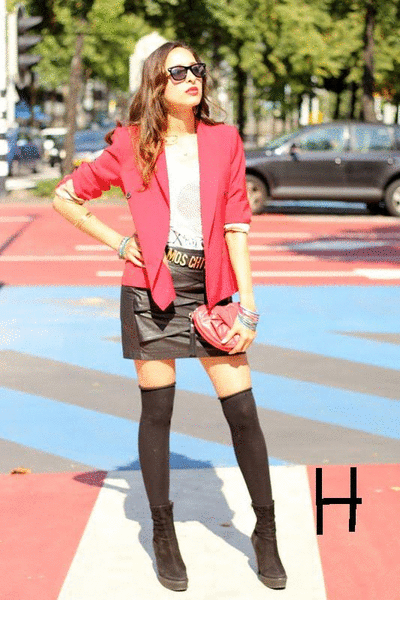 Meet
Virgit
from the Netherlands! Pretty sure this isn't our first HottHe from that region, and He is starting to think He might need to take a trip over there to scout more HottHes, if the girls look as good as
Virgit
. Anyone who confidently pulls of the high highs and heels gets so many freaking ArmHe points its insane. Recently He seems to be a HottHe streak of girls who have amazing legs and know exactly how to make them look hotter and longer then ever.
Virgit
is a HottHe of the Week, awesome He Approved Style.
How would you describe your style?
I never really know how to describe my style and if you check my looks here you will totally understand me. I don't have a specific style, I like to play with everything and try different things even though my Blog's name is Preppy Fashionist but my style is not Preppy I love been creative with my clothes and always try out different looks
Favorite item you own?
My favorite item I own is my Alexa bag from Mulberry since I was saving like more than a year to buy it I really Love and apreciated that bag and also my Giuseppe zanotti ankle boots they are a dream cause I love that they are really unique in a silver colour those 2 things are one of my favorite things I own in my closet of course I love everything what I wear but this 2 items are my favorite ones
Who are your favorite designers?
Well as I love unique shoes my favorite designer has to be, Yves Saint Laurent,Marc jacobs,Giuseppe zanotti ,Alexander Mc Queen,Victoria Beckham, MULBERRY but back in reality my favorite places to shop are ZARA, H&M,NEWLOOK, JANE&NORMAN,TOPSHOP, I don't know what I have with british brands but I love them <3
HE Needs More HottHes?

Non-Bloggers and Bloggers wanted, please be Hot and Stylish and most importantly He Approved. Send your name, facebook link, and where you are from to fashionbyhe@gmail.com or Add He as a Facebook Friend.